It is difficult to predict, especially the future*
February 2021
I'm writing this because a memory popped up on my phone, a photo from our ski trip last February in the French Alps. Even though covid was already making its presence felt in Italy, and on the day we left a group of British tourists had tested positive in the next valley to us, everything was in full swing: ski lifts, ski shops, bars & restaurants, Geneva airport. No lockdowns, no masks, no social distancing – all seemed pretty normal. No-one had any idea of the magnitude of what was about to happen.
Here's a thought experiment for you.+
Let's assume that you knew – as an absolute certainty – that a year later those same ski lifts and all the related trades would be silent; that large parts of the global economy would be forced to close down; that entire countries would close their borders; that we would still be in that position a year later, with no definite end in sight; not only that, but that there would be an attempted insurrection in the US; and that the hardest of hard Brexit deals would be struck, only narrowly avoiding no deal at all.
If you had known all that in February 2020, what would have been your guess as to where global markets would be a year later?
Yes, me too!
All of which goes to show the folly of trying to forecast what markets will do, because contrary to what any rational person might have expected, global equity markets actually did rather well through 2020.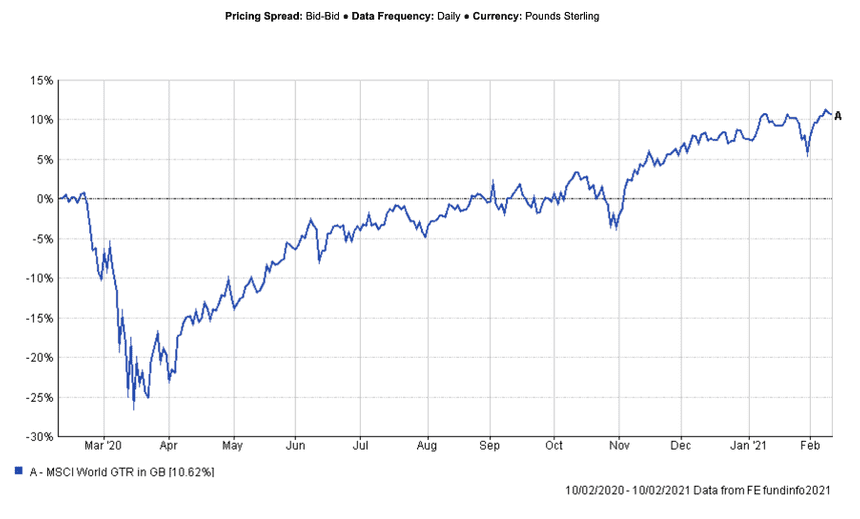 Yes, they absolutely took a dive in the spring (the sharpest and steepest in living memory, in fact) but despite everything, global markets are up nearly 11% since that trip.
So the next time someone tells you they know what markets are going to do, remember that they really don't, and that 'forecast' is a fancy word for 'guess'.
Please do get in touch if you have any observations or questions about this blog, or if you have a financial planning matter you would like some help on. One of our financial planning team will be glad to try and assist.
Data source: Financial Express. MSCI World Total Return including dividends 10/02/2020-09/02/2021
Important note: investments can fall as well as rise, and past performance may not be a reliable guide to the future
---
* Nils Bohr
+ First suggested by my friend and colleague Andy Hart
Share the article
Contact us
Address 1st Floor, Avenue House, 42-44 Rosemary Street, Belfast, BT1 1QE